All About YOU
If you're new to Disclsoures.io, or need to update your agent or brokerage information, you can do so in your profile. Updating information in your profile will allow your information to be populated automatically whenever you are working on a new disclosure package or when you are invited to a package as a co-listing agent.
How It Works
Step 1- Navigate to your account Settings
Click on your name in the top right-hand corner of your screen and select the "Settings" option from the dropdown menu.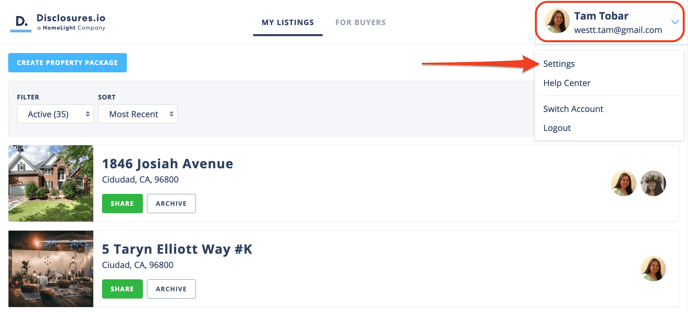 Step 2- Navigate to the Profile tab
Here you'll be able to add or edit your Personal and Company information. As you add information it will automatically be saved. To navigate back to your home screen click on the Disclosures.io icon in the left hand corner.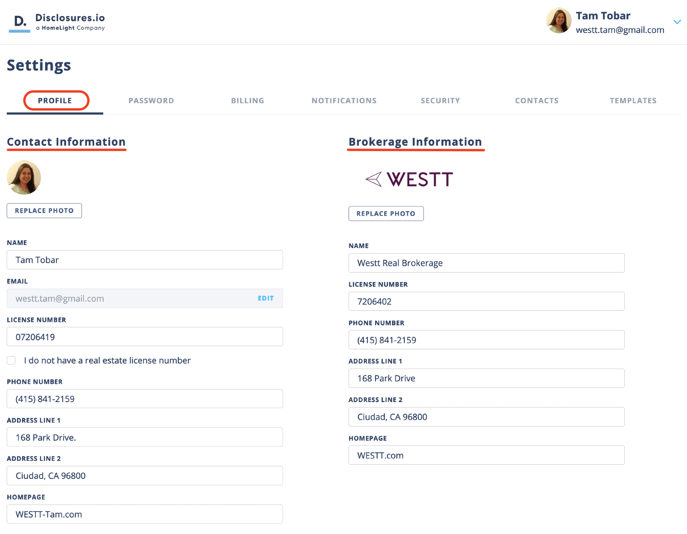 What's Next?
Once your information has been added or updated any new listing packages or offers you create will reflect this saved information.
FAQ
Q: Why doesn't the "Listed By" information update on my coversheet?
A: If you've already created a property package and added your old information to the coversheet you'll need to remove yourself from the coversheet, then add yourself as a listing agent again to ensure that the updated information is reflected.

🔎How to Edit Your Coversheet