Get a 15% discount with Pro Annual Membership. Here's how.
The Disclosures.io Pro Membership Services has many must-have features for active real estate agents.
📈 Detailed Activity Tracking
Actively track the interest level in your listings before offers come in. Know who's looking and what they are looking at.
⚠️ Smart Notifications
Never miss an important event by receiving emails and SMS messages notifying you of who has viewed, downloaded, or requested access to your disclosures. Team members will also be notified where there is a change to the package.
📩 Messaging
Easily connect with interested agents by sending messages out from Disclosures.io. This is great for letting agents know when you plan to receive offers.
📎 Coversheet Templates
Save multiple instructions based on property type or title company.
✅ Sharing with Sellers
As a listing agent, you will be able to share offers you receive directly with your sellers. Read more about Offers.
🖋️ Template Manager
Quickly edit and manage the templates you've set up in Disclosures.io.
💬 Priority Customer Service
Get quick access to help through live chat, webinars, pre-recorded videos, and great help articles.
How Much?
Access to a Pro account is regularly $39 per month or $468 per year.
You can take advantage of a 15% discount by signing up for the annual membership. Your total annual fee comes down to $399 per year.
Subscriptions can be canceled at any time.
Upgrade to Pro-Annual:
Step 1- Log in to Your Disclosures.io Account
Step 2- Go to Settings
Click on your name in the top right hand corner of the screen and select the "Settings" option that appears in the drop down menu.

Step 3- Got to the Billing Tab
In the Your Plan section under Billing Period click the "Switch to Annual" option.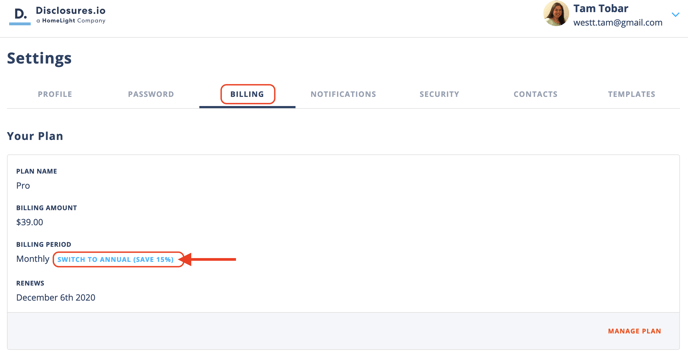 A popup window will appear letting you know when and how much you will be charged. Click CONFIRM to change your plan type.


What's Next?
Pat yourself on the back, you just saved 15% on your Disclosures.io Pro Membership!
FAQ
Q: Can I get a quote for brokerage pricing?
A: Absolutely! Please send us an email at sales@disclosures.io with then number of offices and agents in your brokerage.
Q: Is there an option for team pricing?
A: Yes! To get a quote please send us an email at sales@disclosures.io with the number of agents in your team.
Thank you so much for being a valued member of Disclosures.io. We are endlessly appreciative of your patronage; it means the world to us!