Get Documents Signed Quickly
As an Agent or Transaction Coordinator you can select documents directly from Disclosures.io and send them directly to your DocuSign Account for your clients to sign.
How It's Done
Step 1- Select the DocuSign Option
To get started, click DocuSign Documents button found above the coversheet.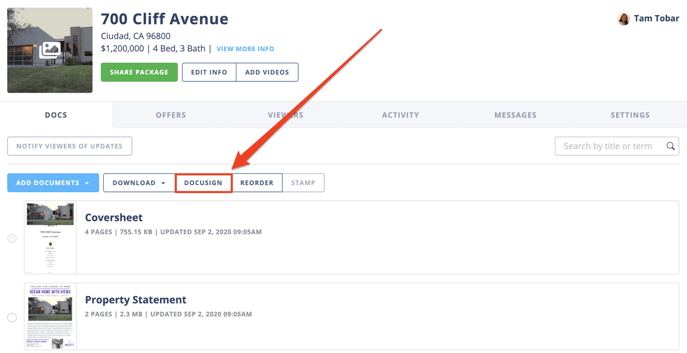 Step 2- Sign Into DocuSign
You will be prompted to sign into your DocuSign account before you choose which documents you would like to send.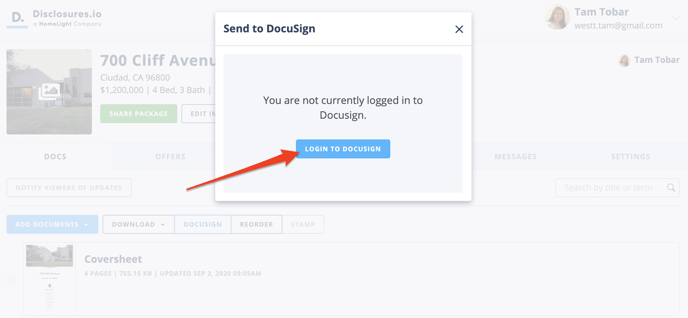 Step 3- Select Your Account
To start creating an envelope select the account you've signed into.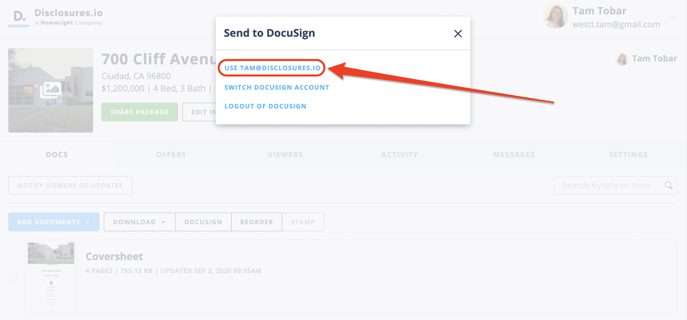 Step 4- Create an Envelope
There will be a step by step wizard guide that will take you through creating an envelope to send over to DocuSign. As sections are completed click on the header of the next section to move forward.
Recipients- You'll want to add the names and emails of the individuals who will be signing the disclosures as well as indicate who should be receiving a copy of the completed envelope. Once in DocuSign, you will be able to add and edit signers if needed.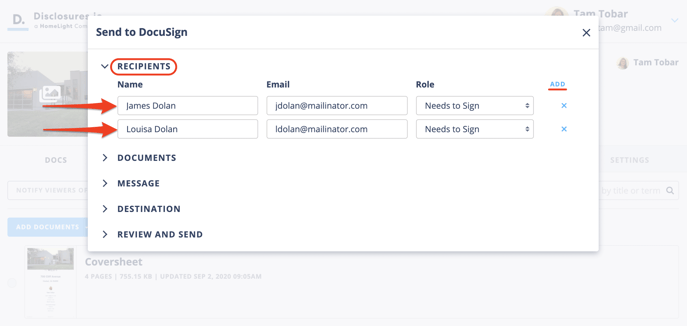 Documents- Indicate the documents you would like to send to DocuSign. Make sure the box is checked next to any document you wish to sign.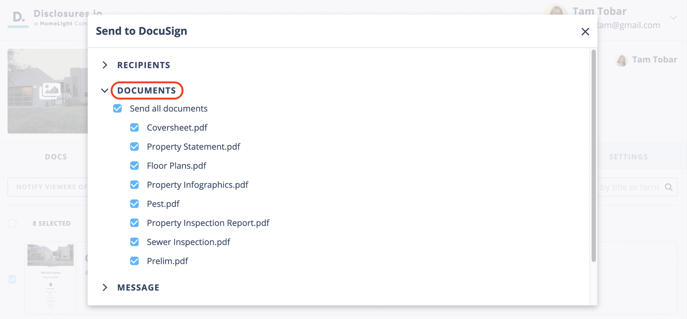 Message- You have the ability to customize the subject and add a custom message to your clients.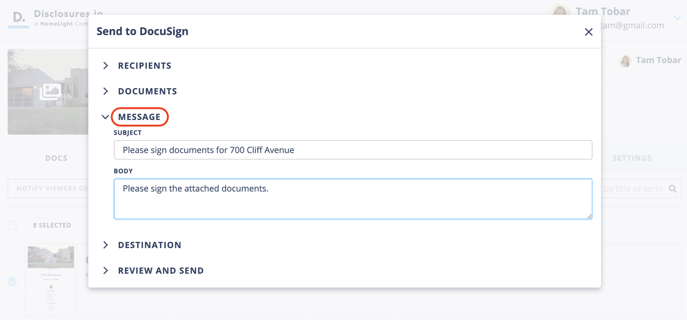 Destination- If you are the Listing Agent, you can elect to have the signed documents come right back into the property package when they are completed once signing is completed. Check the box next to "Replace the original documents with signed copies" before sending the documents to DocuSign.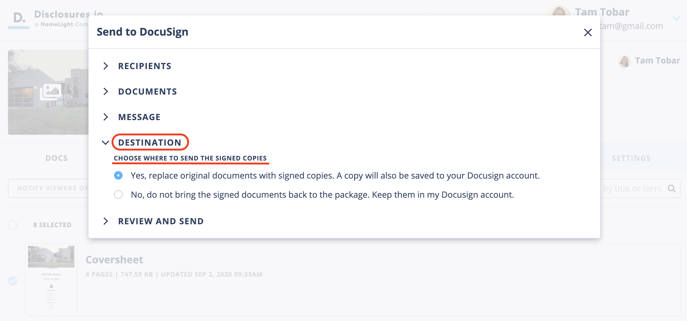 Review and Send- Lastly you'll be prompted to send the documents in an envelope to DocuSign. The documents will be in the draft folder, here you'll be able to place the signature and initial tags as needed.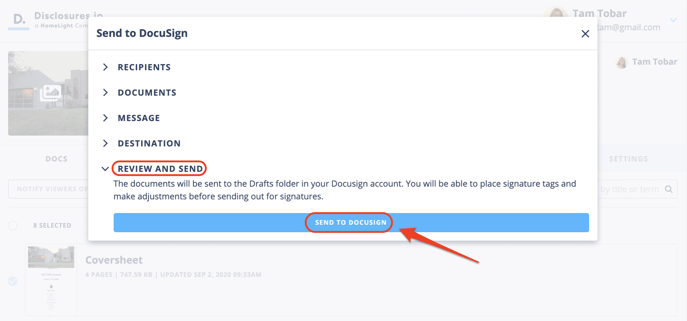 When selecting the send to DocuSign option this will create an envelope. You will see a loading screen based on the progress.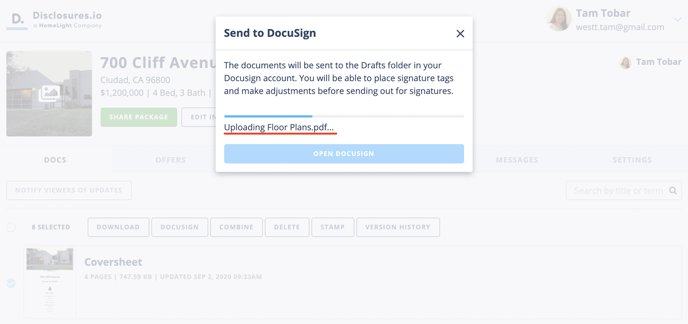 Once the files have been loaded into an envelope select the "Open Docusign" option. This will take the files from Disclosures.io and send them into your DocuSign account for signature tagging.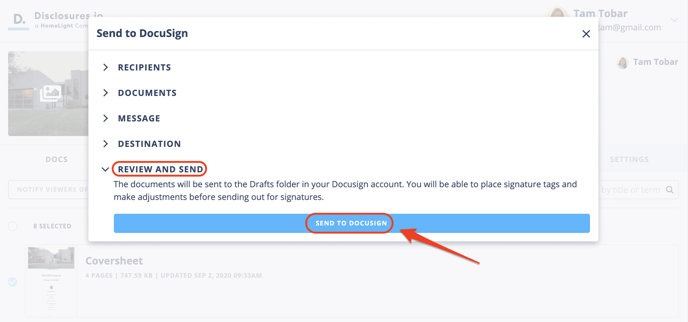 Step 4- Signature Tagging and Sending
When redirected to your DocuSign account all of the selected files will be available for signature tagging. Once you've completed adding signatures send the envelope out for your clients review.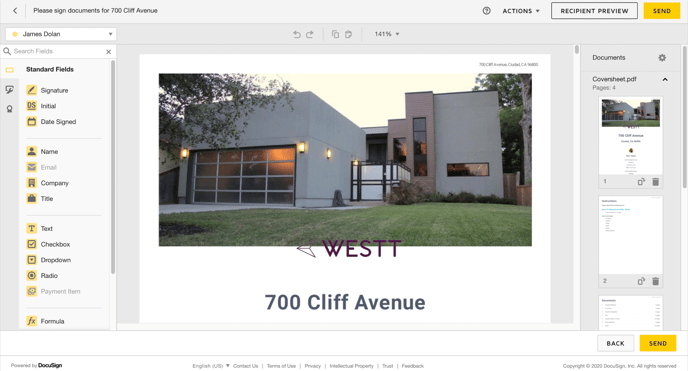 What's Next
Once files are sent to DocuSign, Disclosures.io is not able to see the status of the envelope until it is completed by your clients. To check on the status of an envelope you'll need to go directly to your DocuSign account.
When a seller completes signing the documents, if you've selected that the files should be replaced in your Disclosures.io those documents will be updated. A copy of the signed documents will also be available in your DocuSign account.
FAQ:
Q: What happens when I click Send?
A: When you click Send, you will be redirected to DocuSign to finish tagging the documents for signatures. Once you send the documents to be signed from DocuSign, you will be brought back to the package on Disclosures.io.
Q: Where is the envelope I started?
A: If you started an envelope and did not complete adding the signature tags you can access this envelope by going directly to your DoucSign account and select the manage option. Here you'll be able to click on the Draft section and see envelopes you've created in the past.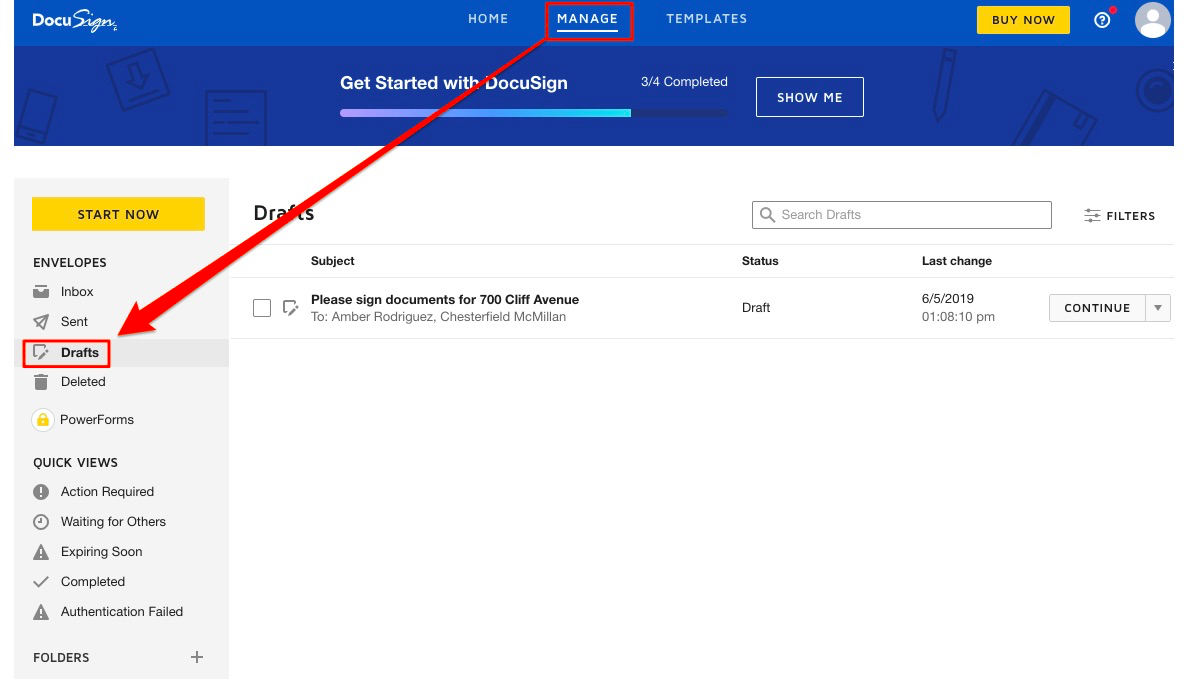 Q: How do I send documents to a buyer?
A: If you are representing both a seller and a buyer you'll be able to repeat the process noted above. For the destination we do suggest not having the documents return to the package.

If you are a Buyer Agent this help article will walk you through creating an envelope for your buyer clients 🔎Buyer Signing Documents

Q: The Buyer Agent said their client signed documents, where are they?
A: If you use Disclosures.io to accept offers on your property this will also allow the buyer's agent to submit their offer and upload the signed documents for your review.

If a buyer agent has not submitted an offer via Disclosures.io they will need to forward you the disclosures via email in order for you to view them.