Choose Which Updates You Get
You can manage how and when notifications are sent to you by navigating to the notification section on the left side of your homepage in Disclosures.io.
How It's Done: Main Notifications
Step 1- Log into Disclosures.io
Step 2- Go to Settings
Click on your name in the top right hand corner of the screen and select the "Settings" option that appears in the drop down menu.

Step 3- Account Notification Settings
Select the notification tab at the top of your screen. You'll be able to opt in and out of different notifications for your documents as well as offers.
For those Events with an asterisk (*) next it at least one notification channel is required. Text and data rates may apply to SMS notifications based on your carrier.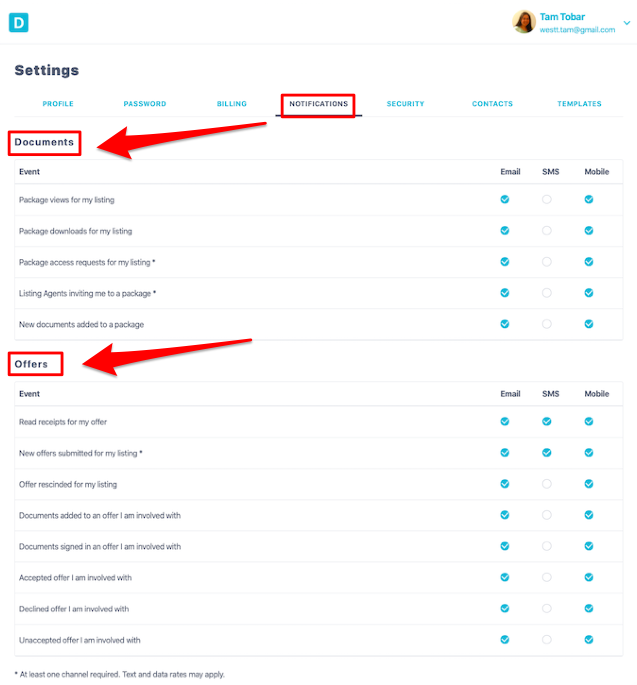 How It's Done: Package Specific Notifications

If you would like to mute the notifications on a specific property follow these steps to get that done.
Go to the property package.
Select the settings tab on the left side of the screen.
Choose to mute the view and download notifications.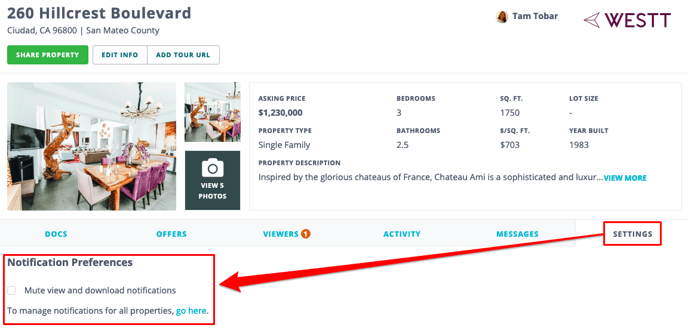 What's Next?
You can edit your notification settings at any time. If you are muting the notifications in a package it will not apply to all packages in your account.
FAQ
Q: I shared the property package but have not yet gotten any notifications, what does that mean?
A: If you haven't gotten any notifications that could mean that no one has clicked in to view the property package. If you know that agents are viewing the package and are not receiving notifications you can reach out to the Disclosures.io support team via chat or send an email to support@disclosures.io and we will be able to assist further.
Q: Why do my notifications say "Someone" viewed/downloaded; how do I tell who is looking at my property package?
A: Seeing the detailed notification of who is looking at your property package is a Pro feature. To receive names along with your notifications you can upgrade your account to Pro; choose from a monthly subscription of $39 or an annual subscription of $399.
Q: Why am I not receiving text message notifications?
A: You'll want to ensure that your phone number is included in your main profile, including the area code. Here's a help article with more information: Your Profile Information