Signing up for HLM Pro is easy!
All newly created accounts on HomeLight Listing Management begin as free or basic accounts allowing agents to create and share digital disclosure packages. For active agents wanting access to more features we offer an account upgrade subscription - we call it, HLM Pro. Get access to package activity(see who is viewing and downloading your packages), get tools to communicate with interested parties, manage messaging templates, have direct access to live chat support, and more.
Here's how to sign up!
Step - 1 Log into your HLM account
Log into your HLM account. Locate the purple UPGRADE TO PRO button and click it.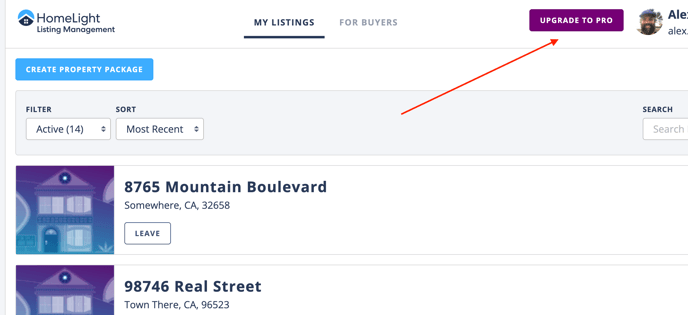 You may also find the UPGRADE TO PRO button within other areas and features of the HLM platform, like,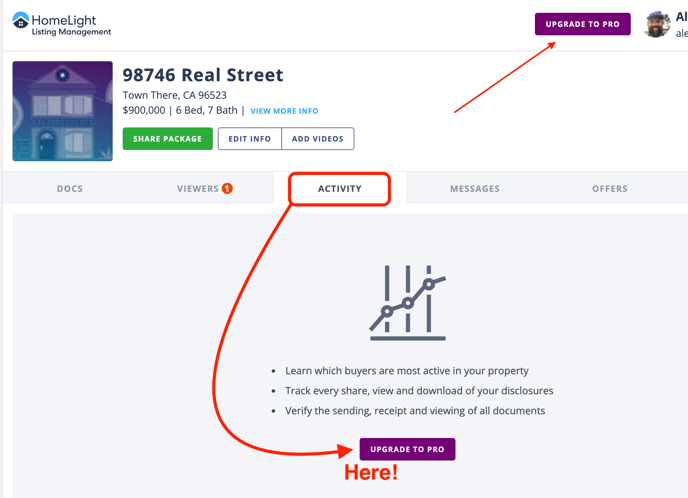 OR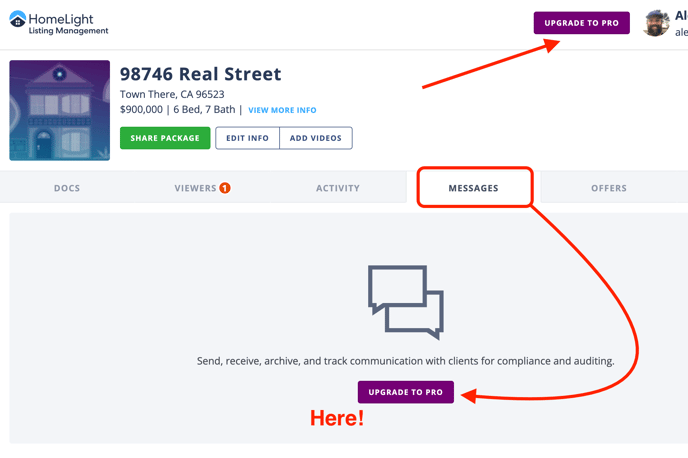 Step 2 - Select your subscription plan and add your payment
Next, you'll arrive at the sign-up and payment set-up page...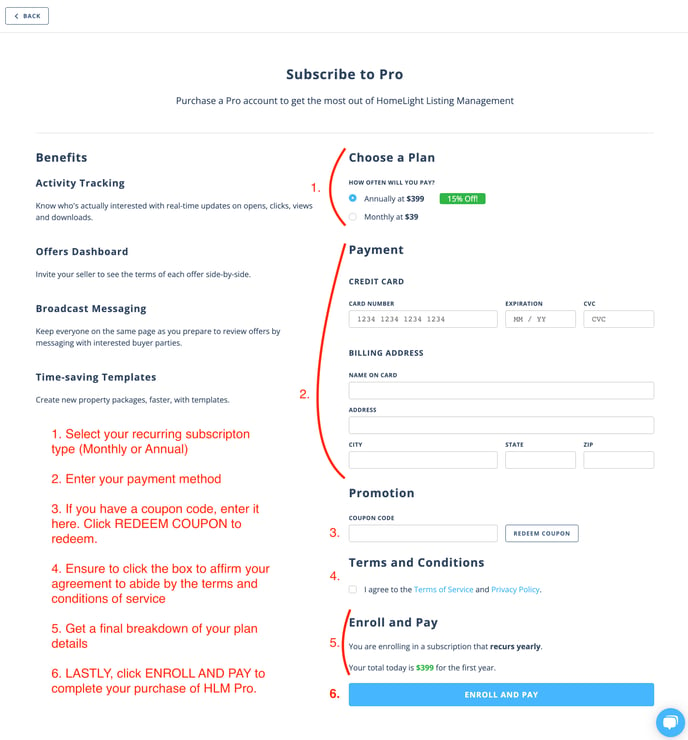 Step 3 - You are set!
What's Next?
You'll now have access to the following additional features:

1. Detailed Activity Tracking
2. Smart Notifications
3. Messaging
4. Coversheet Templates
5. Share with Sellers
6. Template Manager
7. Priority Customer Service via Live Chat Support
For more resources, check out...
FAQ
Q: Can I pay for Pro on a month-to-month basis? Can I pay for one month only?
A: HLM Pro is a subscription, meaning you are enrolling in a subscription plan that recurs whether you choose a monthly or annual plan. With it, you have the option to cancel your renewal at anytime. Upon cancellation, you will still have access to Pro features for the remainder of your subscription term. Both monthly and annual plans renew automatically on the billing date.
Q: Is the renewal date provided in my billing settings the date I will be able to cancel my subscription to avoid charge and renewal?
A: No. The subscription renewal date provided to you in your billing settings is not a deadline for cancellation, but the date for which your subscription will be charged and renewed. For this reason we stress that agents cancel their subscriptions PRIOR to the date not on the date of.
Q: If I cancel my subscription will I be eligible for a refund?
A: Charges previously made for monthly subscriptions are not refunded. See more on our policy here.
Q: Will Pro effect my package data? If I ever need to stop my subscription will I lose package data?
A: No. Keep in mind, Pro unlocks added features to enhance your listing transaction experience to ensure a faster closing. The addition of or removal of Pro does not affect the packages you've created or have been shared to within your HLM profile.
Q: I have 2 emails registered with HLM, one with my brokerage and one with Gmail. If I purchase HLM Pro under my gmail account, will I be able to take benefit of Pro under my brokerage email, too?
A: No. HLM Pro is only accessible from the account(email) you purchased Pro under. One Pro subscription purchase cannot be shared among multiple registered emails.
Q: I purchased a subscription to HLM Pro not too long ago, but I'm not sure my account actually has it. How can I ensure my account does have Pro?
A: When you log into your account, if you no longer see the UPGRADE TO PRO button to the top right, this is the first indication your account has Pro. Other ways to verify include; Open a package, and click on the ACTIVITY tab of the package. If you have visibility to your package's acitivity log - you have PRO. As well, review your billing settings. To access these settings LOG IN > Click your name and image > Select and click, SETTINGS > Click the BILLING tab.
If you're still having trouble please reach out to our dedicated support team to support@disclosures.io(and if you have Pro, sign in and click the blue chat bubble to the bottom right!)