Inviting Sellers to Complete Documents Online
As a listing agent or Transaction Coordinator you can invite your sellers to complete intimidating disclosure forms like the TDS online. The Smart Seller Tools provided by Sellers Shield is currently available to all agents in new and existing packages.
For those agents who are doing business within California the following CAR forms are available for sellers to complete online:
Transfer Disclosure Statement (TDS)
Seller Property Questionnaire (SPQ)
Exempt Seller Disclosure (ESD)
Lead-Based Paint Disclosure (FLD)
Residential Earthquake Hazard Report
How It's Done
Step 1 - Access Your Property Package
Create a new property file for your listing.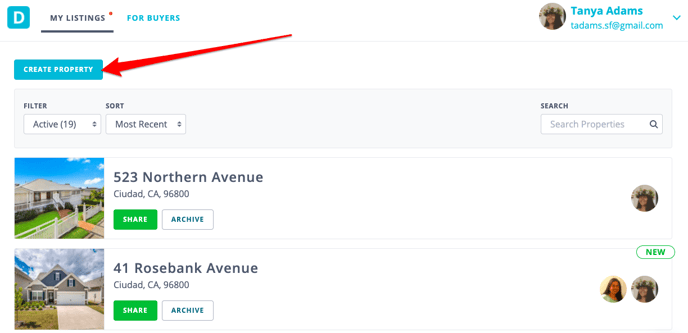 Step 2 - Select Sellers Shield
When your new package is created there will be a popup window that will allow you to connect with Sellers Shield and Invite your seller to disclose.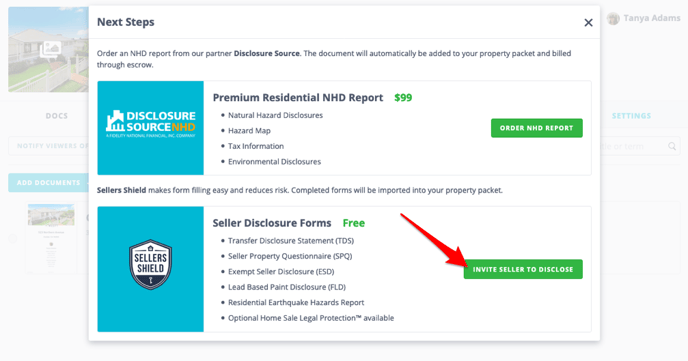 Step 3 - Authorize Sellers Shield and Disclosures.io
If you have not used Sellers Shield previously you will need to sign up for a free account. This will allow you to keep track of the documents you send out to your sellers.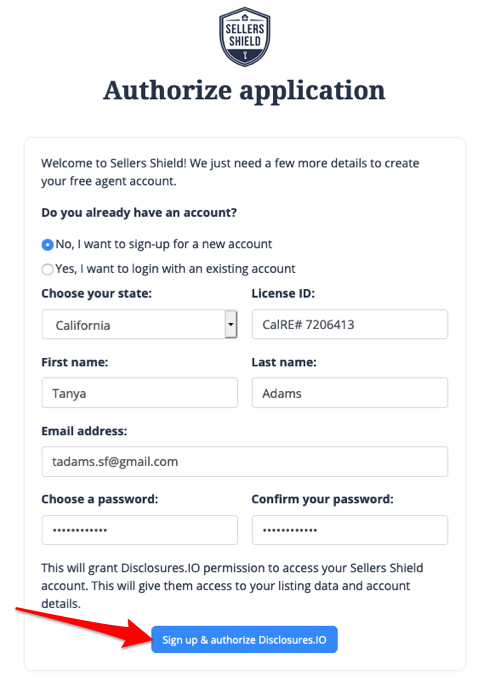 Step 4 - Invite Your Seller
Invite your seller to disclose by entering their name and email address, selecting the documents pertaining to the sale of their property, and choose the complete button at the bottom of the screen. The seller's will receive an email with instructions on how to complete the forms online using the Smart Seller Tools. Your client's information will remain confidential to you.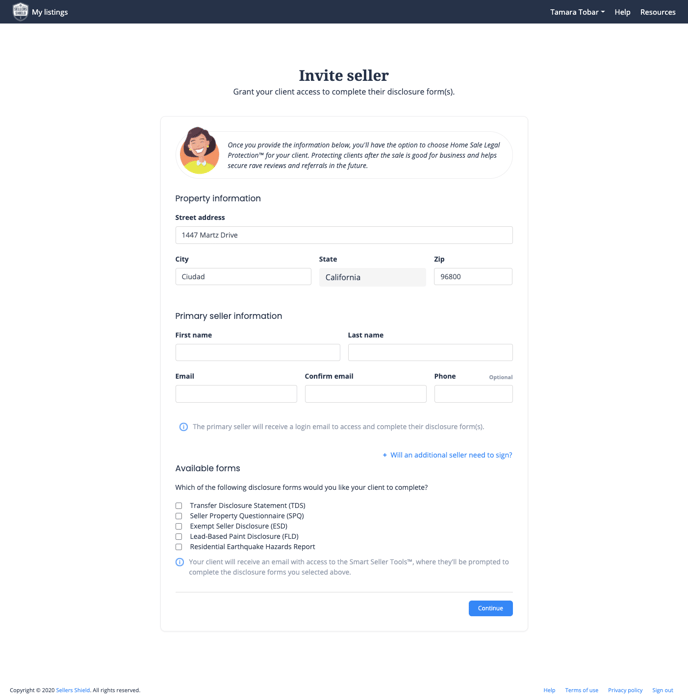 Sellers Shield Home Sale Legal Protection
When inviting sellers to complete form filling online, as an agent you can choose to purchase a Protection Package as a gift for your clients. There are 1 year, 2 year, and 3 year options to choose from.
If you do not want to purchase a Protection Package for your sellers select the No Protection Package option, then select submit.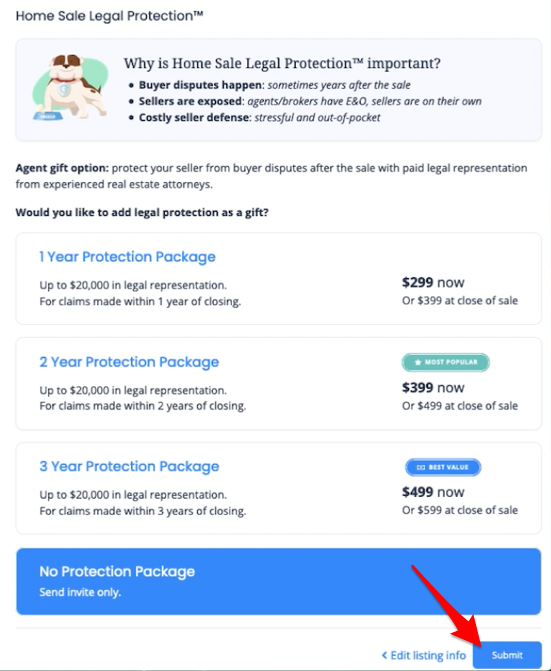 What's next?
Once your client has been invited successfully you will get a notification letting you know they have been given access to the Smart Seller Tools.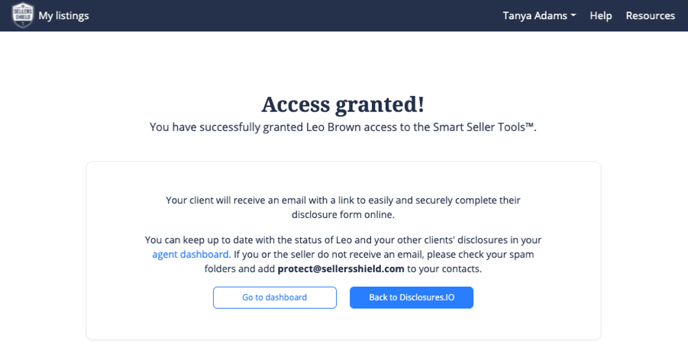 FAQ
Q: How do add my TC to the account so they can receive notifications?
A: When signed into your Sellers Shield account follow these steps to add your TC to alerts.
1. Click on your name in the top right hand corner.
2. Select the Account Settings option from the dropdown menu.
3. Scroll down to the Additional Contacts section.
4. Choose to Edit Contacts.
5. Enter your TC's email address.
6. When finished hit Save Changes.

You can add up to three alternate emails to be copied on all communications related to your account.

Q: Can I track the progress of the forms?
A: Yes. As an agent you will be able to see the progress that your sellers are making by going to the Sellers Shield Dashboard.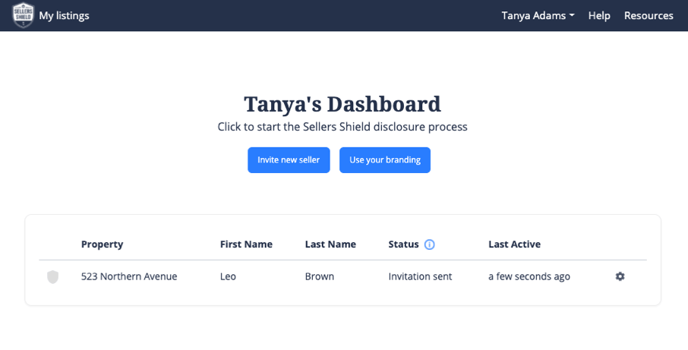 Q: My seller can't find the email to start Form Filling, what should they be looking for?
A: The subject of the email that is sent to sellers will be: Seller's disclosure access for *Property Address*. If sellers do not see this in their inbox you may need to ask them to check their spam folder or search for the sender: protect@sellersshield.com
Q: What does my seller see?
A: Here is a help article that will show you what sellers will see when they are working on completing the forms via the Smart Seller Tools in Sellers Shield.
🔎 Seller's Shield Seller Complete
Q: What happens when the forms are completed?
A: When the forms are completed you will receive an email notification and can review your clients documents. If you would like to import them directly into your property package you can do that by logging into Disclosures.io and going to the package, there will be an import documents tile found above the coversheet.

Q: I have more questions about Sellers Shield, how do I get into contact with them?
A: If you have questions about Sellers Shield or the services they provide you can contact them via Email at protect@sellersshield.com or by phone at 844-747-4435.

For assistance with Disclosures.io you can send an email to support@disclosures.io.