Feature Two Agents on a Coversheet
When you work on a team or are co-listing a property you'll want interested agents and buyers to know who to contact if they have any questions. By adding your information on the cover sheet interested parties won't have to search for your contact information.
The best way to add a co-listing agent is to invite them into the disclosure package. To do this you'll want to hover over the coversheet and an option to edit will appear.
How It's Done
Step 1 - Navigate to Your Property Package
Step 2- Hover Over the Coversheet and Edit
When you hover the mouse over the coversheet in a package that you created there will be an edit button that appears. Clicking on this will allow you to customize the coversheet.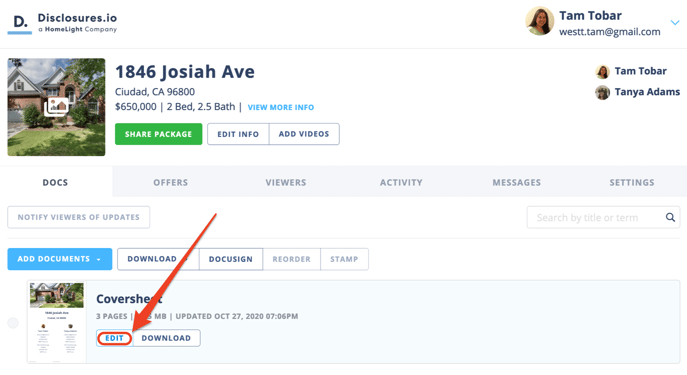 Step 3- Navigate to the Listing Agent Tab
When customizing the coversheet, navigate to the Listing Agents tab and click on "Agent 2" to then select the option to Invite Listing Agent.
If team members have been added to the package previously their contact information will be available for you to select.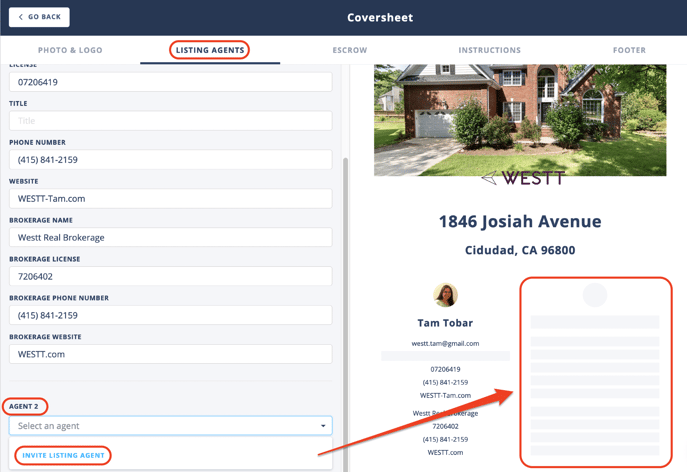 Step 5- Enter Co-Listing Agent Information
Enter the name and email of the Co-Listing agent. Be sure that the email that is being entered is the agents preferred email address. You can also choose to include a message to the Co-Listing agent. When the name and email has been successfully entered use the Invite Listing Agent button at the bottom. This will also send an email notification to the Agent.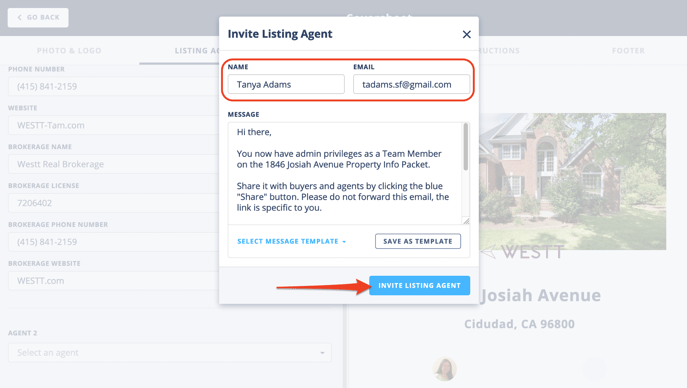 Step 5- Save Changes
When you invite another agent to your disclosure package, if they have a profile setup with disclosures.io their information will be automatically imported from their account. This includes all personal and company information. By inviting them they will also have the ability to edit and share the disclosure package (same as you).
To ensure the Co-Agent is added to the coversheet be sure to use the Save button in the top left corner.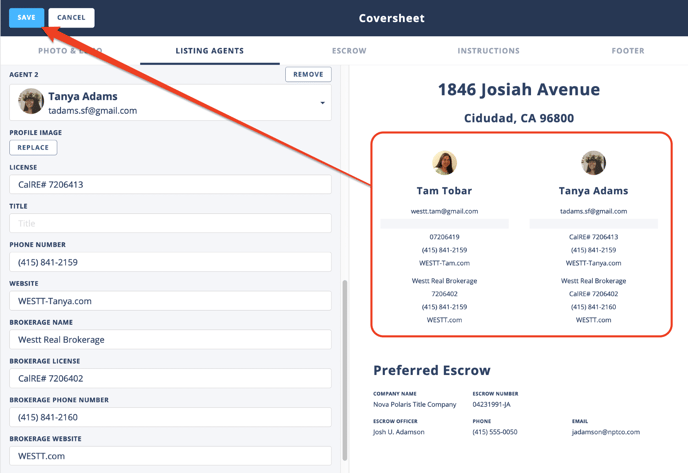 FAQ
Q: If I have a Pro Account and share a disclosure package with a team member who does not have a Pro Account will they be able to access the activity?
A: Each team member will need to have their own Pro Account in order to access the activity and other pro features in the disclosure package.
Q: I invited an agent but their information isn't showing, what do I do?
A: If you invited an agent and they don't have a Disclosures.io account set up you'll be able to manually update their information using the fields on the left side of the screen. Changes you make here will be reflected on the coversheet but not in the agent's profile.
For information on how to set the main profile information up check out this help article: Your Profile Information